Front Office Ringmaster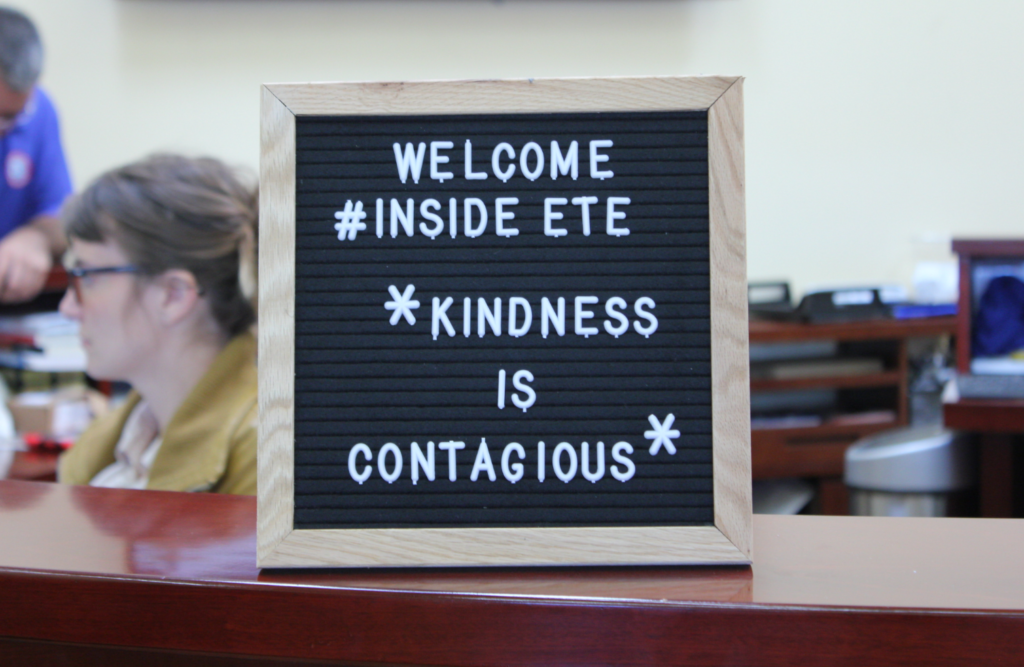 About this Position
Want to join a growing company with a fun, vibrant culture? Join our team as our new Front Office Ringmaster. 
The Front Office Ringmaster is an opportunity on a growing B2B team unlike any other. You're part office administrator, part receptionist, part errand runner, and head of the Welcome Wagon. You're the positive problem solver who does whatever it takes to make our customers, guests, and team happy.
Above all, the Front Office Ringmaster is dedicated to creating an exceptional ETE experience. We're looking for a smart, friendly, motivated candidate. If you're willing to work hard while being nice to our customers & fellow employees, we want to meet you.
Job Duties
In your daily work, you'll guide the following:
RECEPTION
Answer and direct incoming phone calls, welcome guests and staff. Field general questions and requests. Keep conference rooms, meeting areas, reception spaces, and cafeterias clean and organized. Our spaces are a reflection of our culture, so it's essential that they are orderly and visually kick a$@ – at all times.
EVENT COORDINATION
Supporting the Marketing Team, engage the spirit of ETE by planning and hosting on- and off-site celebrations and events. Develop and maintain event industry vendor relationships. Using budget guidelines, unlock creativity to design experiences that delight and impact.
CONCIERGE SERVICES
Reserve meeting room space, resolve room-booking conflicts, provide printing, copies, fax assistance, and coordinate other office services.
HOSPITALITY
Coordinate food/beverages for meetings, working lunches, and special guests, at times including pickups and deliveries. Plan for and provide food/beverage setup and cleanup for meetings as needed.
GENERAL ADMIN SUPPORT
Manage the "main" office calendar; monitor air traffic control of team members and customers; work closely with the Director of First Impressions to handle crisis management for busy periods; have knowledge of all goings on in the office every day. Anticipate team and customer needs wherever possible. Maintain and organize office storage, cafeteria supplies, and marketing materials. Attend weekly Marketing Team meetings and plan support as needed.
OFFICE/MEETING SUPPLY
Build expertise, knowledge, and speed in ordering general and project-related supplies. Manage general office supply stock. Re-stock supplies returned from meetings, and help maintain general supplies in meeting rooms and common areas. Develop and maintain vendor relationships. Budget and manage supply costs.
LIBRARY
Maintain reception and lobby area magazines, newspapers, and internal newsletter copies. Assist with office library book purchases, tracking, and maintenance.
SHIPPING/RECEIVING
Help with shipping and receiving of mail and packages. Ensure the successful delivery of packages, often under pressure and time crunches. This may also involve international shipping, so you'll have an understanding of customs regulations and carrier capabilities. Assist Team Managers with tracking incoming and outgoing shipments. Proactively coordinate with the Marketing Team for any trade show/travel-related shipping needs. Purchase and maintain supplies when needed.
Skills & Requirements
Associates Degree, Bachelor's Degree, or equivalent years of work experience; 1+ years in an office environment.
Accuracy in everything you do.
Ability to anticipate, adapt, and problem-solve in changing situations. Because sometimes, the sky really is falling.
Excellent organizational and time management skills.
Relentless follow-through and ability to prioritize multiple tasks.
The desire to "WOW" customers daily.
Strong interpersonal skills and ability to quickly establish rapport with people. Your coworkers and customers usually become your friends.
Excellent verbal and written communication skills.
Ability to function independently. Because micromanaging (or being micromanaged) stinks.
Computer and web savvy-ness, including the ability to learn new systems quickly.
What Makes You Successful at ETE
You demonstrate optimism and courage in the face of challenge. Having to search for an answer doesn't stop you.
You're passionate about hospitality and operations. You get to know the rhythm of a business while adding your personal touch.
You love collaborating with diverse teams.
You're a natural learner, taking advantage of opportunities to grow skills that will benefit you in work and in life.
You lead with humanity and generosity. Your intent with your work is to create a positive impact—for your teammates, customers, and yourself.
You communicate with empathy and objectivity.
You manage your own time efficiently.
Listing Active Date
November 8, 2017
Details & Benefits
Immediate Hire
Full Time
Great Work Environment
Competitive Compensation Package
Full Benefits

Health
Dental
Vision
401(k)
Picture Yourself Here.
There are about a million reasons for someone to join the ETE REMAN team. The team building opportunities. The ability to develop your talents. Or even the laid-back work environment. If you'd like to see what opportunities are available in our sales, support, or marketing departments, check out our open office positions below.If you're ready to find your next challenge, we're ready to meet you.
Related Jobs