Why Should You Work at ETE Reman?
Two words: The People. From top to bottom, ETE Reman is packed with fun, friendly people who work hard and, quite frankly, do a damn good job. People like those featured below.
Employee Spotlight
Meet some of the fine folks that you could be working with.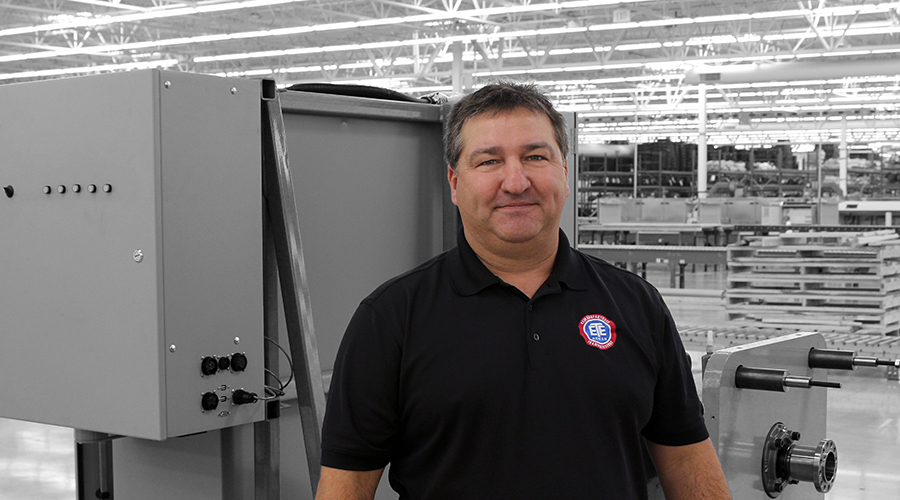 Behind every well-oiled machine is guy holding the oil can. At ETE REMAN, that guy is Ken Rosploch.
As Maintenance Manager, Ken's team is responsible for everything from cleaning to construction. Beyond that, Ken strives to maintain a safe and organized environment in which team members can use their skills and thrive within their trades.
"I have a crew that has to maintain two facilities – one we're building from the ground up and the other is an aging building that needs to keep operations up and running. So my job is to keep everyone on task, get the job done, and make sure we all go home safe at the end of the night."
"It's been great seeing the new facility take shape. I've been involved in the whole process and have had to deal with contractors to get it to this point. My biggest accomplishment will be getting this up and running to full capacity."
"We've got a lot of really skilled people who know their trades; the whole team is great to work with, really. And everyone is involved in the manufacturing process. Like, we built all of our own machines and dynos. I love that. We do so much in-house that it never gets boring."
For Ken, maintenance and facilities management is a natural extension of his love: fixing things. "I was the kid who would take stuff apart to see how it worked. When I was younger, I'd work summers doing construction."
With an education in electric, hydraulic, and welding coupled with experience as a maintenance crew lead and appliance repair and construction business ownership, Ken is the kind of jack of all trades that thrives here.
"I had an appliance repair business with my then-brother-in-law. The recession was hard on the business so I decided to look start looking elsewhere. Owning a business is hard – especially construction during a recession. There are so many headaches. As Maintenance Manager, there are still things to worry about, but not as much. It helps that I like coming here and enjoy the atomsphere, owners, and managers."
So what advice does Ken have for someone who has just joined the team?
"Don't be afraid to ask questions. There are a lot of people who are great resources. There are so many good managers here – more than I've encountered at any place I've been at – use them."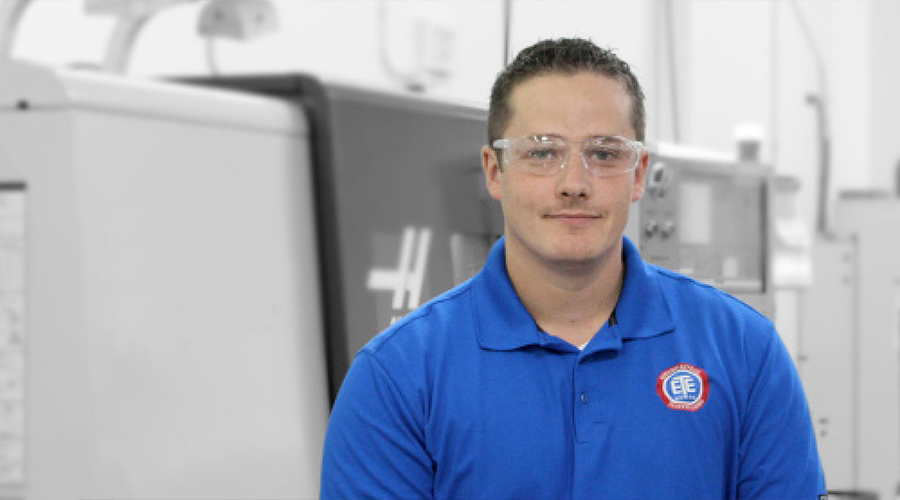 Over the past decade, Todd Giese has seen ETE REMAN grow… a lot. In particular, the Machining Department grew from a lathe that no one was quite sure how to operate to a state-of-the-art facility with millions invested in machining technology.
Todd started out as a mechanic. He met Lawrence Loshak, our VP of Production, through the local street racing scene. Through that relationship, he became R&R Tech at our Engine & Transmission Exchange care center in south Milwaukee. Eventually, Todd would leave to follow his passion for machining.
"My dad was a machinist," explains Todd. "I worked along side him for a while; a lot of people knew him. But, really, I just enjoyed the work. making stuff from nothing was what I wanted to do."
So what brought Todd back? "I worked at one of the largest machine shops in Milwaukee. I did large scale machining on, like, cranes and mining equipment. What I worked on was awesome, but I felt like a number. That's why I came back. I feel like part of the family here."
He continues, "I started back when we still did engines. Even then, you could tell that this was Sam's [our President and Founder] baby. I just fell in love with the family atmosphere."
Over the past decade, Todd has seen and been instrumental in the growth and development of the Machining Department. But that growth hasn't been without its challenges. "The hardest thing is finding qualified machinists. The good ones tend to stay with companies for 30+ years because those companies don't want to let them go. We try to get around that by hiring from within. What our guys may not have in experience, they've shown through hard work, skill, and interest."
So what keeps Todd at ETE REMAN? "It's a great place to work. A lot of people here – especially in Machining – are easygoing and fun to work with. There's lots of opportunity for growth and you can tell that management cares by how involved they all are. Again, it's like a family."